weeels, boohiss.  I did so wanted to be a cool book like Watership Down or A Hundred Years of Solitude. or even (dare I dream?) the Holy Grail, Ulysses. 
but noooooo, I had to be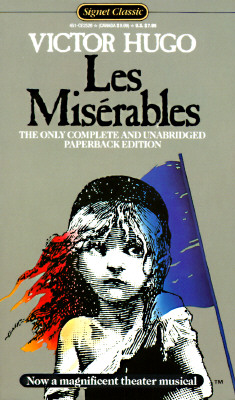 You're Les Miserables!
by Victor Hugo
One of the best known people in your community, you have become something of a phenomenon. People have sung about you, danced in your honor, created all manner of art in your name. And yet your story is one of failure and despair, with a few brief exceptions. A hopeless romantic, you'll never stop hoping that more good will come from your failings than is ever possible. Beware detectives and prison guards bearing vendettas.

and I tried.  I swear I tried.  multiple times. but it kept getting worse.  The Guns of August (which I haven't even read), The Grapes of Wrath, and insult-to-injury, The Merriam-Webster Dictionary  (!!!!!).  given those choices, I figured I might as well go with the original.  Victor Hugo is cool.